The Harsh Couch
Are you sitting comfortably? Because we're not.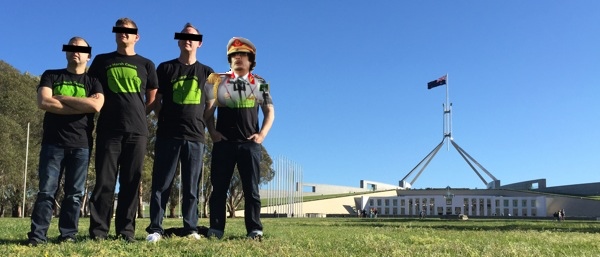 Special thanks to Damo at Nature Park for the awesome t-shirts.
---

We broadcast the show live on Tuesday evenings from 10 PM Australian Eastern DAYLIGHT Time (That's where you are, according to your computer). There's more information about the live broadcast here.

Or you could subscribe to the podcast
---
Recent episodes:
2017.12.05 Gander Testicles
The production of too many useful things results in too many useless people. - Karl Marx


Go to episode
---
2017.11.28 One Nation One Seat
I think you just have got to do your homework and make sure you're not a citizen of two countries when you stand for parliament. - Barnaby Joyce


Go to episode
---
2017.11.22 Too Illegit to Quit
A common mistake that people make when trying to design something completely foolproof is to underestimate the ingenuity of complete fools. - Douglas Adams


Go to episode
---

Tally ho! There's even more in the archives ...