The Harsh Couch
Are you sitting comfortably? Because we're not.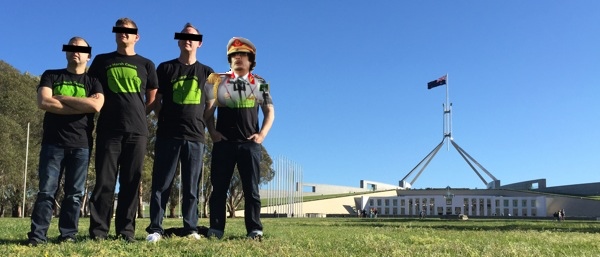 Special thanks to Damo at Nature Park for the awesome t-shirts.
---

We broadcast the show live on Tuesday evenings from 10 PM Australian Eastern DAYLIGHT Time (That's where you are, according to your computer). There's more information about the live broadcast here.

Or you could subscribe to the podcast
---
Recent episodes:
2017.08.16 The Mystery of the Croatian Arse Topaz
Australia: It's like a train wreck and the trains are made of dumpster fires and the dumpsters are full of wrecked trains. - Stillgherrian


Go to episode
---
2017.08.08 Deassuring
Balls have zero to me to me to me. - AI negotiation bot


Go to episode
---
2017.08.01 A Stank of Bin Chickens
Dogs look up to you, cats look down on you. Give me a pig! He looks you in the eye and treats you as an equal. - Winston Churchill


Go to episode
---

Tally ho! There's even more in the archives ...