The Harsh Couch
Are you sitting comfortably? Because we're not.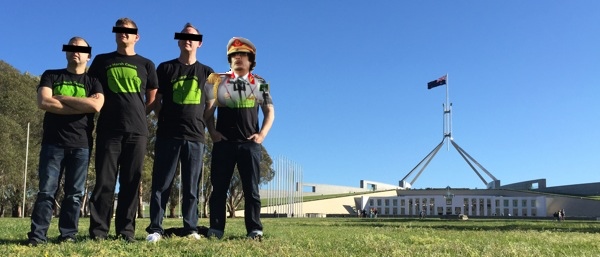 Special thanks to Damo at Nature Park for the awesome t-shirts.
---

We broadcast the show live on Tuesday evenings from 10 PM Australian Eastern DAYLIGHT Time (That's where you are, according to your computer). There's more information about the live broadcast here.

Or you could subscribe to the podcast
---
Recent episodes:
2017.05.22 Ecuador sur la Thames
Whatever a patron desires to get published is advertising; whatever he wants to keep out of the paper is news. - Unknown Origin


Go to episode
---
2017.05.16 The Pirates of Pyongyang
It is the mark of an educated mind to be able to entertain a thought without accepting it. - Aristotle


Go to episode
---
2017.05.09 Barrels of Non-Halal Pork
Those who make peaceful revolution impossible will make violent revolution inevitable. - JFK


Go to episode
---

Tally ho! There's even more in the archives ...